So today I took the day off. This past weekend I knocked out 47 miles in essentially 4 workouts.
I'm tired, but not overly sore. That's pleasantly surprising. It leaves me feeling encouraged that I can cover 50 miles in under 15 hours. Still not entirely convinced, but if I knew I could do it, I'm not sure I'd be all that motivated to...
Saturday was obviously the big effort, but just getting out of bed yesterday was a fair effort in itself. Once I did, I discovered that the coffee I'd picked up at Target was decaf. Why on Earth would anyone want decaffeinated coffee? Ugh. I sat on the couch for a while feeling sorry for myself and attempting to rally to go running, all without caffeine.
Finally around 10, I managed to muster enough "I must go running" mantras to actually get out the door. I ran one of my pretty standard routes. East along the powerlines, east along the North shore of union resevoir and out to Mead HS (I think that's the school), then south and back to home. It's almost exactly 14 miles.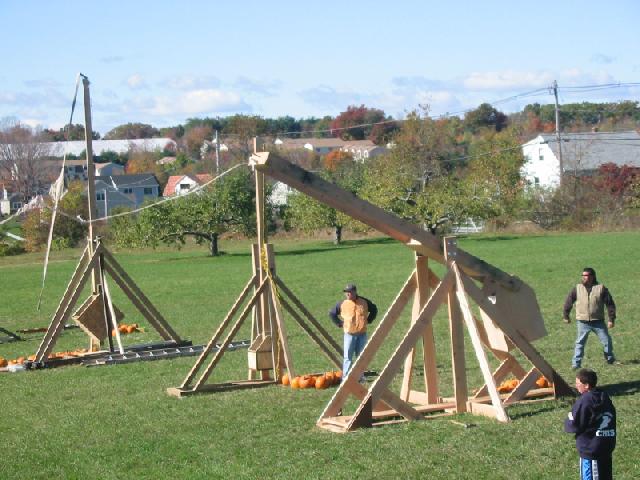 Saw some notable things while I was out. An American White Pelican, and some folks in a field with a freaking trebuchet. They launched it while I was standing there watching. Cool. Seriously. I don't know what precisely the payload was, but it sure went a long way.
I spent a fair bit of time watching random crap on this run so I didn't get home until almost 1. I went directly for burrito. Brought it home and watched Man v Food for a while as the burrito digested and mustered up another trip out the door.
This time I slipped on my Bikilas and ran my most standard route, the 8.5 mile lariat around McIntosh Lake. McIntosh is a really enjoyable circuit. There is often cool birdlife out there. I've seen egrets, coots, pelicans and yesterday a Great Blue Heron buzzed me. It's crazy to me that Colorado has so many birds so commonly associated with coastal wetlands. They're migratory of course, but still crazy. Pelicans for frak sake!
I wasn't done when I got home though, I wanted to get 10 miles for my evening workout so I slipped off my vibrams, grabbed the leash and Homey and I ran the 2 miles out and back on the Rough and Ready bike path with a brief visit to say Happy Birthday to my friend Anya and her sister Reese. I was offered a slice of cake, but I didn't my stomach would be stoked with all that sugar. I tried to decline politely, but it came out, "I don't think it'll stay down." That's pretty random, and probably not all that polite. Oh well, Liz and Will are at least familiar with me.
I guess that's it. I'm still working up the video from Saturday. I wasn't happy with the DivX conversion so I am looking for a codec which will let me import the video directly into Vegas. Think I found it tonight, but left my laptop at work so the test will have to wait until tomorrow.
Thanks for reading.
J